Please Read This Important Post
Josh Marshall
Okay, let's do this. If TPM is important to you I would greatly appreciate your taking a moment to read this post.
We have made great strides over the last five years totally transforming the site's business model from one based almost exclusively on advertising to one based overwhelmingly on membership fees. But it's not quite enough, at least not yet. That's where The TPM Journalism Fund comes in. It plays a relatively small (in percentage terms) but still critical role in our budget, allowing us to keep our focus on original reporting and evolve with the changing news environment in ways I will describe here in the coming days.
Today we're kicking off our second annual TPM Journalism Fund drive. (If you've heard enough and would like to contribute, just click here. If not, please read on.)
Read More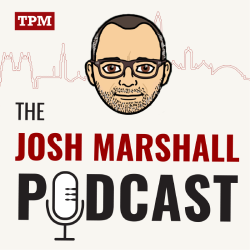 Ep. 176: So…What Now?
Josh and Kate discuss Senator Joe Manchin's opposition to S1 and newly reiterated refusal to touch the filibuster, analyzing the way forward for Democrats w...